"Who else wants to know how you can bet all day, 24 hrs a day on Betfair X-games?"
Over 8 months of testing to 100's of people, UltraXTRADER is the fully AUTOMATED betting bot that people have been talking about. Now you can find out how you can add this "set and forget" bot to your arsernal of betting tools....
If you want to use Betfair at times that suit you, then read on, this is what you have been looking for!!!
Hi Reader,

Malcolm here,

Could you give me 5 minutes of your time to show a new and exciting betting concept?

If that's a yes, then please read on, you won't regret learning about this great new betting tool.

First, let me ask you a question...

Have you heard of Betfair?

I expect that is a big yes!

What about Betfair X-Games?

Maybe, Maybe not. Well, just in case you haven't, let me give you a very quick introduction.

Betfair X-Games are several computerised games that continue to play 24hrs a day, 7 days a week and gives you the chance to either back a hand to win or lay one to lose, just as you can on Betfair's main sporting site.

Did you get that?
24hrs a day, 7 days a week *

So it doesn't matter when you can get to your computer, you can still bet - unlike horseracing, or Greyhounds, or most other sports.
Even better, you do not have to worry about things like form, course, trainer, jockey and many other factors, they are just not relevant with card games. In fact, you don't even have to know how to play cards to use Betfair X-Games.
I have been trading on Betfair X-Games for nearly a year, so as you can imagine I have learned a lot about what does and doesn't work.
What you need to know is that to make consistent profit , you need to spend some time betting and try not to miss potential profitable bets.
Betfair X-Games generally last about 5 minutes (the turbo games are quicker), and you will find it can be very easy to miss a bet, which is something you want to avoid if you want to make a consistent profit.
This happened to me in the early days, in fact it could get quite frustrating.
It was those little things...
I would be watching a hand and then.... I would get a phone call, or my wife would ask me a question, or call me for tea, you don't want to know how often I got in trouble with her!
Although I had earlier pieces of software created to help, most of these relied on what we call "scraping" - these were not reliable and often crashed or stopped working because Betfair updated their website.
Luckily, a little while back Betfair created an API for their games site. This is a list of commands that you can securely use to automate the use of their X-Games through a software programme. This means we were finally able to create software that was stable, and would not suffer from the earlier problems.
So let me introduce you to a UltraXTRADER which I am very excited about, not least because it has been designed by users of X-Games like myself, and is the result of several months work.

UltraXTRADER is one of the first Betfair X-Games bots to give you full automated betting.
UltraXTRADER is one of the first Betfair X-Games bots to give you full automated betting. In fact, it has 3 unique modes so that you can bet easily the way you prefer.

Manual one click betting. You can simply click to place a bet. The bot will tell you if there is a profitable trade available and if there is you can simply click again to trade out.

Auto Mode. In this mode you can simply click to make a bet, but ultraXTRADER will trade out automatically.

Full Auto. This is one of the most exciting features of ultraXTRADER, and allows you set up simple or very complex rules that tell ultraXTRADER when to make a bet and when to make a trade.
Once you have set up these rules UltraXTRADER will continue to bet 24hrs a day 7 days a week until you stop it, or it reaches one of your stop criteria.

But UltraXTRADER offers you even more!!! One of it's most amazing features is to give you the tools to make up your own betting rules.
This means that you can make up very complex betting rules very easily, so increasing your chances to make money.

Think of the rules like this.

Easy.
UltraXTRADER only bets on hand 1 if the price is between 2.00 and 3.00

Or slightly more complex.
UltraXTRADER only bets on hand 1 if the price is between 2.00 and 3.00, and hand 2 is between 1.00 and 2.00

Or slightly more complex.
UltraXTRADER only bets on hand 1 if the price is between 2.00 and 3.00, and hand 2 is between 1.00 and 2.00, and hand 3 is between 4 and 20.

Or slightly more complex.
UltraXTRADER only bets on hand 1 if the price is between 2.00 and 3.00, and hand 2 is between 1.00 and 2.00, and hand 3 is between 4 and 20, and hand 1 didn't win last time.

And you can add as many rules as you like.

I know it looks a little strange, but when you get the hang of this simple process, you will find out how powerful it can be.
UltraXTRADER offers so much more though, look at some of the main features.
Manual, Autotrade, Full Auto
Save / Load and Share Scenarios
Staking - When activated Scratch back from 1 to x
Stake Type - Stake, Liability
Trade Out settings - For Profit or Loss
Profit/Loss Stop - Bot will stop when figure reached
Continuous Profit - Reset profit figure allowing you to bank profit
Hand sort by - Index (type), Rank (by price) or Random (any hand)
Bet on any round
Lay or Back
Win and loss tracked by Graph
7 unique pattern matching auto bet features.
NEW - You can now choose multiple pattern matching sequences for entering or exiting a game.
i. Profit / Loss
ii. Number of wins / Losses
iii. loss win sequence (LLLWWW)
iV. Ladder staking will reset to 0 after WWWW
V. Ladder staking now applies to all hands rather than a game win/lose streak
Vi. Get in on a pattern sequence get out on profit.
Vii.Widen odds, for example; use the 3rd best odds in the ladder instead of the best.
NEW - Faster Simulation mode now run 30 days data in aprox 1.5 hrs. Run your scenarios in paper trading against downloadable historical data, captured by us.
NEW - Technical trend - This great little feature allows you to set a moving average on the PL graph based your rules performance over a number of games, and " get in and out" based on peaks in that graph.
Plus there are many other features that have been added because we use them.


The problem with many software developers is they create software that they think you will need! Many of them haven't even used the software in "live mode" themselves.
UltraXTRADER has been designed by users for users, and that is why it succeeds where others fail.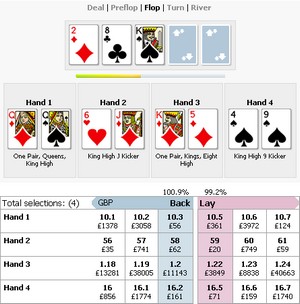 Let's have a look at some of the features again, and why they are in UltraXTRADER.
Staking. Many users wanted the chance to get back any losses, especially during some aggressive scenarios, so we added staking. But our staking allows you to get back your losses over a number of selections, not just 1 or 2. So, if you have a scenario where you have a lot of winners and then the odd loser, you could set staking to 5, which splits your losses in to 5 and allows you to make them up over 5 winning bets. This figure can be anything you want.
"Winstreak" was added when we found some hands often followed a winning pattern. So we can now tell UltraXTRADER to only bet if a hand has already won "X" number of times.
"Continuous Profit" is a little hard to explain, but you would have to be a constant user of Betfair X-Games to even realise this was a good option.
Some scenario's have good runs followed by bad or not so good. So you could find sometimes you would set your stop profit to say £100, and then your scenario would build up profit as high as £90 only to have a few losers and then lose it all.
"Continuous Profit" gets around this problem by allowing you to set your "Stop Profit" lower, and instead of stopping when you reach your "Stop Profit" figure, the bot resets, so in effect banking your profit, and then starts trying to make the same amount again.
So you can continue making money, but now your fall from profit to loss will be a lot lower if it happens.
P/L session tracked by graph.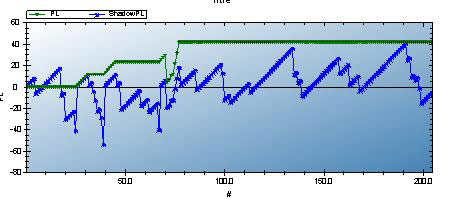 The Blue Line is paper trading, the green live is live trading.
You will notice that the Green line steps up at certain times - this is because in this scenario we actually get UltraXtrader to only bet when losses reached a certain level. Our studies showed that on this scenario, generally, there is a drop in profit and then a climb back up - we wanted to be betting on the upward slope!
UltraXtrader also allows you to do this by the number of wins and losses, or by the sequence of wins and losses.
These are just three examples that should convince you that UltraXTRADER was designed by users.

But there are two more reasons why UltraXTRADER is the best choice for you...


AMAZING BONUS #1
Scenario Guide
No BS Value at least: £49.00
Ok, this is going to help...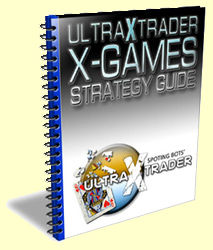 In order to help you start using UltraXTRADER we have put together 4 strategies that we have found that could produce a profit***.


We have given you all the information you need in order to set UltraXTRADER up correctly, so that you can see how these scenario's work.

This bonus alone is worth the cost of UltraXtrader!
AMAZING BONUS #2
30 days of Historical Data.
No BS Value at least: £200.00
This will save you a lot of time...

We have now collected past game data(**) so that you can run UltraXTRADER in simulation mode!!!

This means you don't even have to wait to run the bot for long lengths of time to see if a scenario has a potential to be profitable.

Simply set UltraXTRADER in "simulation mode" and you can test an idea in minutes instead of hours or days.


UltraXTRADER has a unique inbuilt system that allows it to run scenarios on past collected games data, which has been specially saved in a format that can only be used with UltraXTRADER.

UltraXTRADER users can use this past data to run ideas quickly on every different game available to out bot.
Standard Poker "normally" takes around 5 minutes to play each game. If you run UltraXTRADER in "simulation mode" using the past data then you can play 30 days worth of data in aprox 1.5 hrs

Although the data is from previous games already played, it will still give you a very good indication if a scenario is likely to work or not, because X-Games are computer generated.

How much is UltraXTRADER going to cost?
After hearing all the above I bet you're thinking "UltraXTRADER is going to cost me a fortune".
Well I am very pleased to tell you it is not.


UltraXTRADER is just £146.00 £49.77 - Summer Special (Including 30 days data) and includes all future updates for a whole year.

Let me answer some of the questions that are probably going through your mind.

Q. If it's so good, why do you sell it and not make all the profit yourself?
A. Bluebell Data is a software company that produces betting aids for our customers, but they are also used by us. We actually get joy out of sharing our products with other users, but that doesn't mean we have to give them away.

Q. If we all use the same bot, won't we change the prices on Betfair's X -Games?
A. There are probably 100's if not more ways to bulid a working strategy on these games, so many of us are using totally different scenario's. But sensibly, you need to put an awful lot of money on any one hand on a particular round to influence prices.

Q.What is this Betfair API thing?
A. You don't actually have to worry about this, I only mentioned it because I want to show you that UltraXTRADER is programmed using authorised information from Betfair, and that we are an authorised Betfair developer.

Q. Do I need to leave my computer on?
A. Yes you do , because UltraXTRADER needs to connect to Betfair to place bets.

Q. Can I really trust UltraXTRADER to automatically bet for me?
A. Well, I think that is a big yes, we have been testing this bot for over 8 months with hundreds of users helping us get this right.
Q. Is historical data available for all games?
A. It is apart from some of the new turbo games (we will be adding these soon.

So click here to get your hands on this Amazing software.


Best Regards
Malcolm
Bluebell Data.
P.S. This really is an amazing product and this "special offer" makes it even better so don't wait around until it's to late.

Click Here to order now.
Customer Comment: David France
"UltraXTRADER really is probably the best X-Games bot on the market"
- David France.

*As long as betfair is not down for updates or maintenance.
** Now 30 days of historical data given free!
*** This guide is for information only we do not guarantee that the scenarios will return a profit over the long term.
© Copyright 2006 - Bluebell Data , 29 Bath Rd, Swindon, Wiltshire, SN1 4AS Tel: 08455443966.
Gambling is risky, do not bet with money you cannot afford to lose and be sure you understand what you will need to spend in order to get the returns indicated.